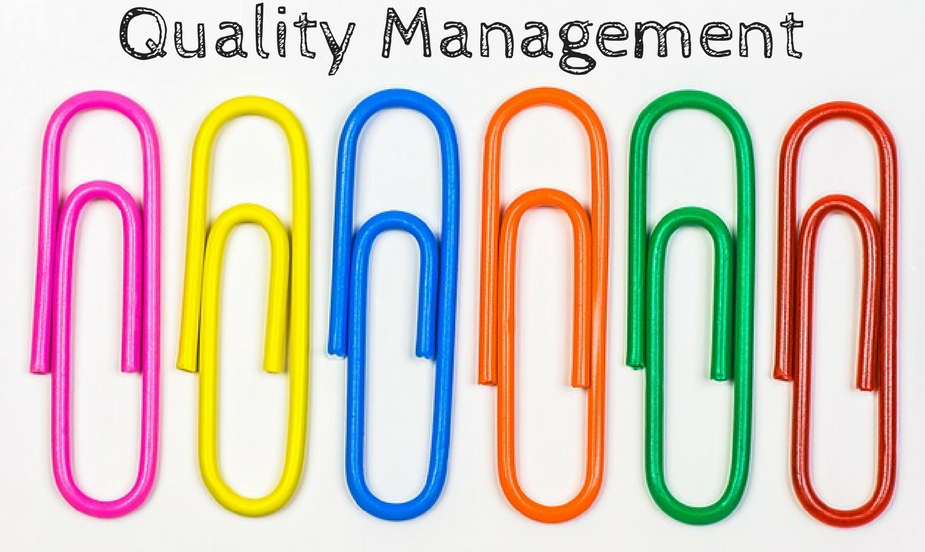 If you want to respond to a tender or do business with the government or the big boys, you must have certification to the ISO9001:2015 international standard for Quality Management Systems.
But what the heck is ISO9001 in plain English?
Basically, it is a guide to running your business with clear, consistent and documented processes, always striving for continual improvement, managing risk and most of all, keeping a customer focus in everything you do.
Customer satisfaction in itself is pretty easy to achieve. You begin by asking customers what they want, use your internal processes to deliver a product or service, then measure how you went. This means you have to review internally, and actually ask your customers for feedback. You then take this information and use it to improve your process for the next time.
Guess what?  If you get all this right and manage to document it effectively, then you already have the basics of a Quality Management System.  Making it meet the requirements of the standard is a little more involved, but really doesn't have to be complicated.
So how do you achieve ISO9001:2015 certification?
Well before you get the auditors in, you need to set up your system.
Let's start by removing the fear factor.  A quality management system doesn't involve changing the way your business is run. Chances are that if you are looking at ISO9001, it is already running okay. You might just need to plug a few gaps and tighten up some areas of risk.
The biggest challenge is capturing and documenting it effectively.
You see, ISO9001 insists that you must have a system of documented information. This involves a quality manual of some kind with quality objectives, a quality policy, a number of key procedures and of course records. All documented in writing, version-controlled and available in the workplace to the people who need to know.
It all seems incredibly overwhelming so let's break it down.
You may already have some business policies or rules, but the Quality Management System needs its own policy; a statement of what you want to achieve, how you will keep your customers happy, and how you will measure the success.
So your policy needs to clearly define your quality management and product delivery goals, and they need to be measurable.
Strip it back a little further and you will end up with the Plan Do Check Act model.
Plan what you need to deliver and how.
Do the job.
Check how you went.
Act on the feedback to do better next time.
Next, you look at your Quality Objectives. These must be very specific and measurable business goals based around quality. This is probably the hardest part, as it forms the foundation for the whole system. Google quality objectives to get some ideas, or have a chat with a quality management auditor for guidance. Your objectives can be a stand-alone document but my preference has always to build it into my Quality Policy. Whatever works best for you because ultimately this is YOUR business. As long as they are measurable.
Now you get into the nuts and bolts of your business; the processes.
It might help to break it into simple chunks but always keep it simple.
We'll call them procedures here, but keep in mind that the current standard doesn't specifically ask for procedures, but instead uses the term "Documented Information."  That's ok, I prefer "Procedures" as it is a language we all understand.  A procedure doesn't need to be a novel. It just has to have a purpose, a scope, a clear process and some rules and responsibilities. It outlines the What and the Who and hopefully links into your overall Quality Objectives. You can always break the procedure down further into lower-level how-to documents (or Work Instructions) later for specific tasks, but at this level, we want to create the umbrella under which the related tasks sit.
So start by breaking your business into core areas; buying, selling, making, staff and improvement.
Buying Stuff (aka Purchasing)
Every business needs to buy things. Who do you purchase from, and how do you control the quality of the product or service they supply? Who in your organisation has the authority to purchase on behalf of the business? What are their purchase limits? What are the risks to your business around purchasing?
Put that stuff in a procedure!
Selling stuff (aka sales and marketing)
Every business sells things; it's what pays the bills and delivers a profit. So who do you sell to? How do you advertise? How do you screen your potential customers? How do you qualify an opportunity? How do you make sure you get paid? How is the sell price determined? How do you know you are making a profit? What happens when you mess up?
Put that stuff in a procedure!
Making Stuff
Chances are that you design or develop a product to sell. Keep in mind that the standard defines a "product" as any product or service you deliver to your customer. How do you research & develop? How do you assess the product as viable, deliverable and profitable? How will you implement a new product? How will you assess the quality of the finished product? How will you make sure it is always made the same way?
Put that stuff in a procedure!
(note: If you don't design or develop, make sure you list this as an exclusion in your quality manual.)
Improving Stuff
Ok, so just a reminder here of one of the key principles of ISO9001; continual improvement. Your business needs to be constantly reviewing its processes and end products for quality and identifying opportunities for improvement. So you need to be actively monitoring through audits, revisions, and feedback, then acting upon the results. How will you capture this information? What will you do with it?
Put that stuff in a procedure!
Keeping An Eye On Stuff (Monitoring)
So once you have a management system it will only work if your management team is actively involved and onboard. Management team, you ask?  Well, this is a group of leaders (we'll say upper management) and other stakeholders to the system who engage, endorse, promote, train and support the system throughout the organisation. So this team must be formed and commit the financial resources and people to make it work. But that's not enough. They also need to commit to meeting regularly as a quality management team to review the system, really look at the results and records, then do something about it. Not just a token meeting for the sake of ticking a few boxes but to actually use the forum as a meaningful and valuable improvement tool.
Put that stuff in a procedure!
Keeping Stuff (Records)
Conformance to the standard is based on objective evidence. Clear, documented evidence, otherwise known as records.
Sales and purchasing history, legal record retention, defects and non-conformances, preventative measures and good old document control. So set up some systems for keeping track of this stuff.  You need it anyway for finance auditing, health and safety monitoring and every other legal arms who need to look at your business.
So put that stuff in a procedure!
People Stuff (Training)
You need to feel comfortable that your staff and contractors are trained and competent to do their jobs. The law also needs to know this is true.  So establish training requirements and keep the records up to date. And make sure there are job descriptions in place to outline roles and responsibilities. Basically, make sure your staff are doing the jobs you are paying them to do, and that they are adequately trained and qualified to do it.
Put that stuff in a procedure!
Sell Your System to the Masses
So now you have a lot of documented information just like the standard told you.
You have a Quality Management System.  Now you need to get everyone to embrace it. So tell your people why you are doing it. Sell the benefits. Explain how it will positively affect them. Explain the gain to come out of the pain. If you can't sell it to them effectively, then you are not ready for certification. You do not yet fully understand or are not committed to the process for the right reasons.
So if you can't sell it, go find another company already operating under ISO9001. Let them sell it to you. Let them tell you about efficiency, profit, consistency and engagement. Let them make you jealous of what it has done for their business performance.
Then go back to your people and tell them what you are doing. Give them the choice to hang on for the ride, or jump off the boat now. Surround yourself with the people who will help you on the journey and don't look back.  If you don't have the internal resources to get it off the ground, then engage a consultant to guide you along the way.  Your certification body will be able to recommend someone to help within your budget.
Then settle in for the ride.  I guarantee the journey will be as enlightening and powerful to your business as the certificate at the end of the process.